FFK sqaron gabimin gjuhësor në trofeun e Kupës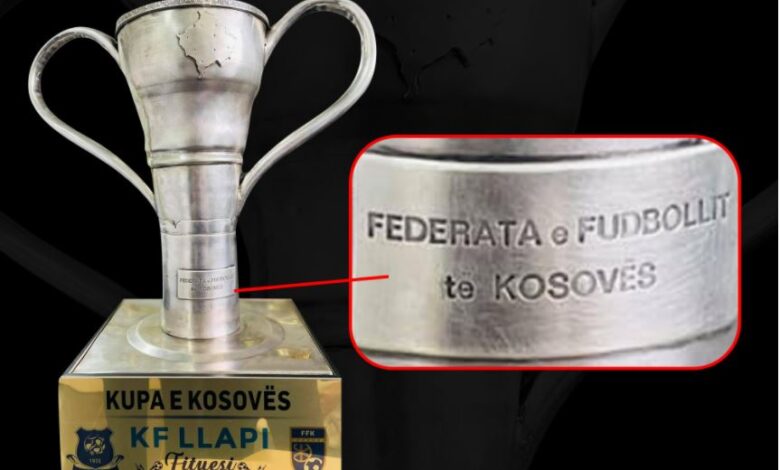 "Federata e FuDbollit te Kosovës" është shënuar në trofeun e Kupës së Kosovës, i cili së fundmi i fitua nga KF Llapi dhe mediat reaguan për gabimet gjuhësore.
Megjithatë, drejtoresha për marketing në FFK, Alba Morina, përmes një shkrimi ka sqaruar gjithçka rreth trofeut. Ajo ka thënë se ky trofe është punuar para më shumë se 27 vitesh dhe nuk ka pasur asnjëherë ndërhyrje në gravim, për të mos e humbur origjinalitetin e saj. Ndryshe KF Llapi fitoi në Kupën e Kosovës pasi e mposhti në penallti skuadrën e Ligës së Parë, KF Dukagjini.
Shkrimi i plotë nga Alba Morina: 
Trofeu i "Kupes se Kosoves" eshte e punuar para me shume se 27 (1993) vjetve dhe ka qene kupa e Presidentit.
Asnjehere nuk eshte nderhyer ne gravimin e saj per shkak te rendesise qe kjo kupe eshte punuar nga Presidenti historik dhe per mos t'ja humbur origjinalitetin. Kjo Kupe nga viti ne vit, si e tille, eshte percjell tek klubet fitues!
Sic e dini, klubet e kthejne kupen cdo vit, dhe ju takon vetem kur 3 vjet rradhazi jane fitues te Kupes, e cila asnjehere deri me tani nuk ka ndodh ne futbollit e pasluftes.
Quditerisht "gazetes" ne fjale tash i ka ra ne mend me e bo "lajm" gabimin ne mbishkrim, tek sa nder vite pronaret e pikerisht kesaj gazete e kane pastru po te njejten kupe me mbishkrim te tille. E kane fshi D-ne ne vend te T-se
E gazetaret te tjere, i pergezoj qe jane zgjuar nga gjumi sivjet per me e pa kete gabim, sepse viteve te kaluara nuk e kane pa… ose nuk kane desht me e pa… ose, as s'i kane dhene rendesi Kupes se Kosoves, si ngjarja me e madhe sportive ne vend!
Per fituesin e edicionit 2021/22 do t'a keni te permirsuar, e mandej e prodhoni edhe nje tjeter "lajm" se s'i kemi nderhyer ne Kupen legjendare…!
Perndryshe, ma keni be zemren mal qe diskutimi i vetem eshte rreth mbishkrimit te moqem, sepse organizimi i Kupes se Kosoves nga ekipi i enderrave te Federata e Futbollit e Kosovës – Football Federation of Kosova u ka lene pa fjale, duke qene pa asnje verejtje, i kompletuar vizuelisht dhe i nivelit superior organizativ.
Se paku ish desht me na duartokite!
Shkronjat mos ju harxhofshin asnjehere!
Shendet e shume dashuri,