Zaharieva: Ne kundërshtojmë fillimin e negociatave, jo anëtarësimin e RMV në BE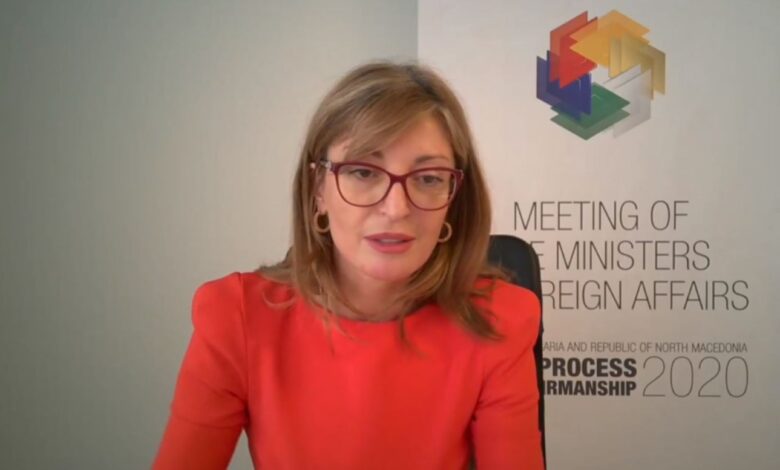 Ministrja e Jashtme Bullgare, Ekaterina Zaharieva u shpreh e prerë se Bullgaria do të vendosë veto për fillimin e negociatave për anëtarësimin e Maqedonisë në Bashkimin Evropian. Ajo tha se e gjithë politika e vendit është bazuar në urrejtje ndaj fqinjit lindor dhe se pala maqedonase nuk i përmbushi detyrimet e Marrëveshjes së Fqinjësisë së Mirë. Zaharieva shtoi se nuk mund të thonë "po" për aq kohë sa Maqedonia nuk pranon se ka pasur rrënjë bullgare.
Ne themi" jo "për fillimin e negociatave, e jo për anëtarësimin. Politika jonë gjithmonë ka qenë e orientuar drejt mbështetjes së vendeve të Ballkanit Perëndimor për anëtarësim në Bashkimin Evropian, por ne nuk besojmë se në këtë moment ata janë të gatshëm dhe plotësojnë kushtet për fillimin e negociatave. Askush nuk e konteston të drejtën e tyre për vetëvendosje dhe ata e quajnë gjuhën e tyre si të duan, ne e kemi thënë atë shumë herë. Por nuk jemi dakord që kjo e drejtë e vetëvendosjes të bazohet në urrejtje, vjedhje të historisë dhe mohim të Bullgarisë dhe Bullgarëve. Siç kanë filluar, ata do të fillojnë ta mohojnë ekzistencën e kombit Bullgar – deklaroi Ekaterina Zaharieva, Ministre e Punëve të Jashtme të Republikës së Bullgarisë.
Zaharievës i pengon që diktatori Tito lartësohet në vend.
Nuk mundet nga njëra anë të dëshironi të jeni në BE ndërsa nga ana tjetër ta demokratizoni shoqërinë, institucionet dhe shtetin, dhe në të njëjtën kohë ta lartësoni një nga diktatorët më të errët – Titon. Të dy gjërat janë të kundërta – tha Ekaterina Zaharieva – Ministre e Punëve të Jashtme të Republikës së Bullgarisë.
Kryeministri Zoran Zaev sot tha se vetoja bullgare është e sigurt, por prapë la mundësi minimale për miqtë bullgarë të ndryshojnë mendimin.
Unë jam gati dhe e kam përgatitur popullin maqedonas për bllokadë të mundshme, për veto të mundshme. Dhe kjo është mëse e sigurt. Nëse doni ndojnë përqindje- është më e sigurt se sa të marrim vendim pozitiv. Por, unë kurrë nuk e humbas shpresën sepse përgjegjësia e politikanëve është e madhe. Ka kohë deri në dhjetor, deri në fund të dhjetorit është mundësia për konferencën e parë ndërqeveritare. Pres përgjegjësi, një zë miqësie nga pala bullgare – tha Zoran Zaev, kryeministër i RMV.
Zaev beson se nëse Bullgaria nuk është e kënaqur me përmbushjen e obligimeve sipas Marrëveshjes, mund të na bllokojë 130 herë gjatë negociatave.
Ata e kanë mundësinë e vetos ose bllokimit 130 herë gjatë 34 kapitujve. Marrëveshjet me Bullgarinë dhe Greqinë janë në raportin vjetor dhe janë pjesë integrale e kornizës negociuese. Këto janë marrëveshje ndërkombëtare, të nënshkruara, janë bilaterale gjithashtu, të cilat kanë realizimin e tyre – theksoi Zoran Zaev, kryeministër i RMV.
Zyrtarizmi i vendimit të Bullgarisë duhet të ndodhë të martën më 17 nëntor, kur edhe mblidhet Këshilli i çështjeve të përgjithshme të BE-së. Atëherë duhet të miratohet korniza negociuese edhe për Shqipërinë.
Alsat