Kurti: Serbia të distancohet nga regjimi i Millosheviçit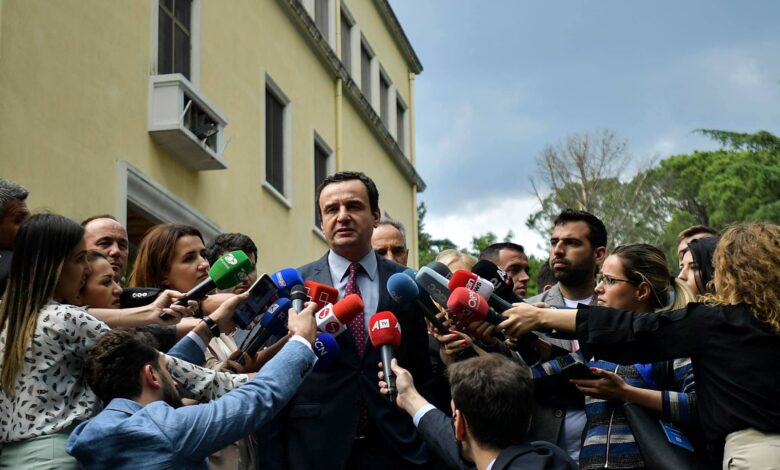 Nga Tirana, kryeministri i Kosovës Albin Kurti i dërgoi një mesazh Serbisë për të njohur pavarësinë e saj. Kurti deklaroi në një konferencë për gazetarët jashtë dyerve të pallatit të Brigadave ku sot u mbajt takimi i liderëve të rajonit të Ballkanit Perëndimor, se Serbia duhet të distancohet nga regjimi i Millosheviçit duke theksuar se Serbia po mban peng veten duke mos njohur pavarësinë e Kosovës.
"Meqenëse isha në një konferencë tjetër në Selanik përmes zoomit nga pallati i bridagave, Nismat e ndryshme I bëjnë bashkë liderët e Ballkanit për të sjellë në frymën e integrimeve europiane. Në fjalën time fillova duke konstatuar se përderisa 6 shtetet e BE janë në Europë, BE nuk është Europë pa u anëtarësuar edhe këto shtet. Shteti i Kosovës është shteti më pro europian në Europë dhe jemi të vendosur për të zbatuar reformat tona.
Nismat rajonale po ngecin për shkak se mungon njohja e Kosovës nga Serbia. Njohja do bënte që vendet të bashkëpunonin më shumë. Nuk mjafton vetëm tregu i përbashkët por që vlerat e BE të vendosen në raportet mes shteteve. Në fund dhashë një propozim si mund të ecim para. Kjo është marrëveshje e tregut. Për të organizuar samite të përbashkëta çdo tre vjet dhe në fund të kësaj dekade të ishim të gatshëm për integrim në BE. Ajo që është më e rëndësishme është së Serbia të njohë pavarësinë e Kosovës për të pranuar aktualitetin real. Nuk ka më min-shengren. Ajo inciativa që më shumë ka qenë e lidhur me Novi-Sadin.