Medvedev "demoloi" Gjokoviqin dhe fitoi titullin në "US Open"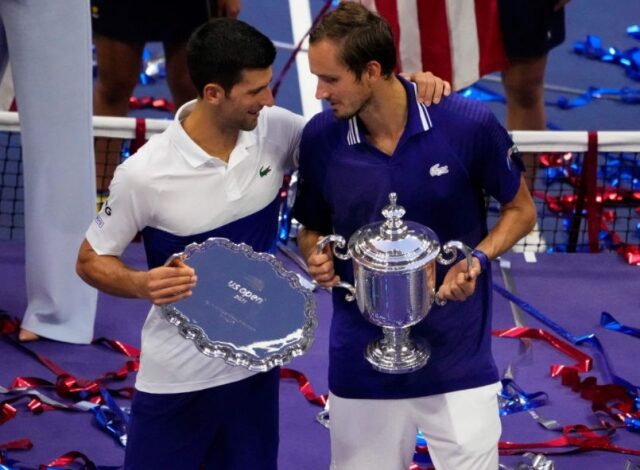 Tenisti rus, Daniil Medevedev është fitues I turneut Masters "US Open", pasi që në finale mposhti tenistin serb, Novak Gjokoviq , me 3-0 në sete ose 6-4, 6-4, 6-4 në geme. Numri dy i botës, Medvedev arriti titullin e parë Grand Slam në karrierën e tij, pas dy finaleve paraprake të humbura në "US Open 2019" dhe "Australian Open 2021".
Daniil Medvedev, of Russia, reacts after defeating Novak Djokovic, of Serbia, during the men's singles final of the US Open tennis championships, Sunday, Sept. 12, 2021, in New York. (AP Photo/John Minchillo)

"Më pyesnit se si do të luajë në finale dhe a kam plan në kokë, por them edhe tash se për këtë njeri duhet të kesh 15 plane në kokë, sepse çdo ndeshje që kam fituar apo kam humbur, ka qenë krejtësisht ndryshe. Për fat të mirë servimi më shërbeu mirë. Dua të urojë bashkëshorten time, pasi që sot është tre vjetori nga martësa jonë dhe thoja në vehte se nëse nuk fitojë në finale, nuk do të kem kohë për të blerë dhuratë, andaj tani kjo është dhurata për ty," tha mes tjerash Medvedev.
Tenisti rus nuk e lejoi Gjokoviqin që të bëhej njeriu i parë që i fiton të gjitha katër turnetë Grand Slam përgjatë një viti kalendarik, dhe gjithashtu që të bëhej njeriu më i suksesshëm në këto turne madhore.
Gjokovic mbetet kështu në numrin e 20-të të Grand Slameve, duke ndarë këtë numër me dy legjendat e tenisit, Rafael Nadal dhe Roxher Federer.