"The Telegraph": Në Britani, gjysma e personave dalin pozitivë pas shtrimit në spital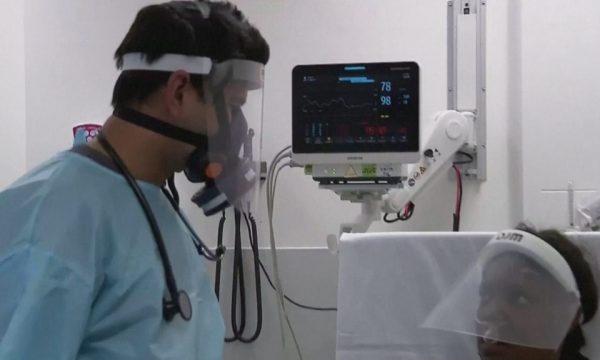 Gjysma e pacientëve në spitalet e Britanisë së Madhe rezultuan pozitivë për Covid-19 vetëm pas shtrimit në strukturat mjekësore.Të dhënat janë publikuar nga media prestigjoze The Telegraph, që citon disa dokumente ekskluzive.
Shifrat e marra nga NHS, Shërbimi Shëndetësor Kombëtar, sugjerojnë se vetëm 44% e pacientëve u klasifikuan të hospitalizuar me Covid, rezultuan pozitivë në kohën kur u shtruan.
Shumica e rasteve nuk u zbuluan derisa pacientët iu nënshtruan testeve standarde për koronavirus, të kryera ndaj çdo personi të pranuar në spital për çfarëdolloj arsye.
"Këto të dhëna janë shumë të rëndësishme dhe duhet të publikohen vazhdimisht. Kur njerëzit dëgjojnë për shtrimet në spital për Covid, ata supozojnë se Covidi është shkaku i mundshëm, por këto të dhëna tregojnë komplet diçka tjetër. Kjo ka të bëjë me zbulimin e Covid pasi u kërkua testimi", shprehet profesor i Universitetit të Oksfordit.
Ekspertët kritikojnë qeverinë britanike që nuk ka bërë publike të dhëna të sakta sa i përket kësaj çështjeje. Profesori Heneghan kërkoi që të qartësohej nëse virusi ishte shkaku primar i shtrimit në spital të pacientëve.
Ai theksoi se të dhënat aktuale të publikuara nga media The Telegraph mund të çojë publikun drejt konkluzioneve false, konkretisht të mendohet që është ekzagjeruar niveli i vërtetë i presionit në strukturat spitalore.
NHS reagoi për investigimin duke theksuar se shumica e pacientëve janë pranuar në spital për shkak të simptomave dhe komplikimeve nga Covidi, gjë e cila është konfirmuar pas kryerjes së një testi.