BE kërcënon Turqinë me sanksione: Varosha e Qipros të mos preket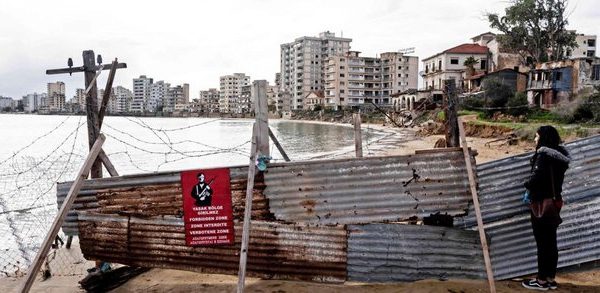 Bashkimi Evropian ka dalë me një deklaratë të përbashkët ku dënon me forcë ato që i quan "hapa të njëanshme të Turqisë dhe deklarata të papranueshme të bëra nga Presidenti turk dhe udhëheqësi i komunitetit turk qipriot më 20 korrik 2021 mbi rihapjen e mëtejshme të qytetit Varosha.
BE kërkon nga Ankaraja që të respektojë dy rezolutat e Këshillit të Sigurimit, e fundit prej të cilave në vitin 1992 kërkon që në qytetin e braktisur prej vitit 1974, pas pushtimit turk të Qipros Veriore, të rikthehen vetëm banorët e shpërngulur prej tij.
"Veprimet e njëanshme në Varosha që bien në kundërshtim me rezolutat e deklaratat e Këshillit të Sigurimit. BE mbështet rezolutën e cila i konsideron të papranueshme përpjekjet për të vendosur në ndonjë pjesë të Varoshas njerëz të tjerë përveç banorëve të saj dhe kërkon transferimin e asaj zone në administratën e Kombeve të Bashkuara. Asnjë veprim nuk duhet të kryhet në lidhje me Varoshën që nuk është në përputhje me ato Rezoluta", thuhet në deklaratën e përfaqësuesit të lartë të BE-së, Josep Borrell.
BE nënvizon edhe një herë nevojën për të shmangur veprimet e njëanshme në kundërshtim me ligjin ndërkombëtar dhe provokimet e ripërtërira, të cilat mund të rrisin tensionet në ishull dhe të kompromentojnë përpjekjet e vazhdueshme për të gjetur gjuhën e përbashkët midis palëve drejt një zgjidhje të qëndrueshme të çështjes së Qipros.
BE thotë se mbetet plotësisht e angazhuar për një zgjidhje gjithëpërfshirëse të problemit të Qipros mbi bazën e një federate bizonale, bikomunale me barazi politike, në përputhje me Rezolutat përkatëse të Këshillit të Sigurimit të KB dhe në përputhje me parimet mbi të cilat BE-ja është themeluar.
Deklarata mbyllet me kërcënimin e Turqisë me vendosjen e sanksioneve nëse nuk tërhiqet nga qëndrimet e saj.