Georgievski: Bullgaria nuk duhet të ketë frikë, diskutimet mbi historinë do të vazhdojnë edhe nëse fillojmë negociatat me BE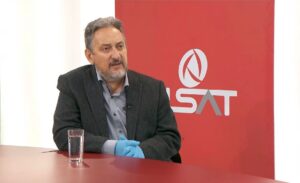 Refuzimi i Bullgarisë për të vënë veton për fillimin e negociatave me BE-në nuk do të nënkuptojë përfundimin e negociatave për çështjet e hapura mes Sofjes dhe Shkupit, tha në paraqitjen e sotme në emisionin "360 Gradë", ish-kryeministri dhe ish-udhëheqësi i VMRO-DPMNE, Ljubco Georgievski .
Sipas tij, vitet e fundit ka pasur një klimë pozitive të afrimit midis dy vendeve fqinje.
"Publiku Bullgar duhet të kuptojë që nëse negociatat e Maqedonisë me BE fillojnë tani, asgjë nuk është mbyllur, ata ende mund të tregojnë historinë e tyre … askush nuk e ndalon interpretimin e tyre të historisë, as nuk i detyron ata të heqin dorë "interpretimi i tyre, megjithëse është mirë që më shumë tema të mbyllen", tha Georgievski.